Contact Us
Our Staff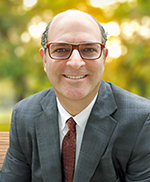 Charles M. Miller, JD, AEP®
Senior Director of Planned Giving
[email protected]
202-449-6529

About Charles M. Miller, JD, AEP®
Chuck began his career as an Ohio Assistant Attorney General, Charitable Law Section. Today, Chuck helps donors become philanthropists across the Hillel movement. He is a member of the Estate Planning Council of Cleveland and former President of the Northern Ohio Charitable Gift Planners who awarded him as the 2018 James P. Conway Mentor of the Year. Chuck also received the prestigious Accredited Estate Planner® Designation by the National Association of Estate Planners & Councils.
Hillel International
800 Eighth Street, NW
Washington, DC 20001
Telephone: 202-449-6500


We're Here to Help:
Hillel International has extensive charitable gift planning experience. We can help you consider the options to design your gift to best meet your charitable, financial, and tax goals. Let's connect and explore how you can create a legacy that tells your story.
Thank you for reaching out to Hillel International. We are delighted that you are interested in further information. We will make every effort to respond to you in a timely manner.
Enter Your Information